Selihot movie and service, Saturday, September 9, 9:30 p.m.
Amal
Amal, an autorickshaw driver living in poverty in India, crosses paths with a rich man who, fed up with the corruption, entitlement, and materialism of the upper classes, goes looking for One Honest Man. What will happen when Amal's kindness encounters the cutthroat business world? Will Amal's goodness cost him material benefits of this world? The movie asks what makes a rich life, what are the costs of an upright life, and what are the costs of materialism.

The movie will be followed by a Selihot service, beginning at approximately 11:30 p.m.
Sunday, September 10 – Kever Avot cemetery visits
It is customary to visit the graves of parents and other relatives at the season of the Yamim Nora'im, Days of Awe, and recite a memorial prayer. Rabbi Krishef will be available to say personal memorial prayers at the graves of your loved ones.
12:30 p.m., Ahavas Israel cemetery
1:15 p.m., Greenwood cemetery
Sunday, September 10, 3:00 p.m. – Sukkah Building
Please come help us build our synagogue sukkah. In case of severe weather, we'll postpone until September 24.
Rosh Hashanah
Friday night, September 15, Erev Rosh Hashanah
Ma'ariv 6:00 p.m.
Candlelighting 7:34 p.m.
Saturday, September 16, Rosh Hashanah, 1st day
Shaharit 9:00 a.m.
Minha 7:30 p.m.
Ma'ariv 8:30 p.m.
Candlelighting after 8:33 p.m.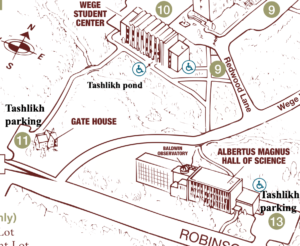 Sunday, September 17, Rosh Hashanah, 2nd day
Shaharit 9:00 a.m.
Tashlikh service 4:00 p.m. At Aquinas College, at the pond just below the Wege Student Center. Parking is available in the Gate House lot off of Robinson near the pond, as indicated on the map.
Minha 7:45 p.m.
Ma'ariv 8:30 p.m.
Havdalah 8:31 p.m.
Monday, September 18 is a minor (sunrise to sundown) fast day, Tzom Gedalia, in memory of the last (Babylonian appointed) Jewish governor of Judea, assassinated by a Jew who thought cooperation with the Babylonians was treasonous.
Yom Kippur
Sunday, September 24, Erev Yom Kippur
Kol Nidre 7:00 p.m.
The Kol Nidre service begins with a meditative cello performance by Stacey Bosman Tanner.
Candlelighting 7:18 p.m.
Monday, September 25, Yom Kippur
Shaharit 9:00 a.m.
The Yizkor memorial service takes place after the Torah service, at approximately noon.
Study Session 5:00 p.m.
Minha/Ne'ilah 6:00 p.m.
Ma'ariv/Havdalah 8:17 p.m.
Sukkot
Saturday and Sunday, September 30 and October 1
Yom Tov Festival services, 9:30 a.m.
Monday, October 2, 6:00 p..m. Temple Emanuel invites the men of Ahavas Israel for a vegetarian dinner in the Sukkah.
Wednesday, October 4 – Enjoy a "Chili" Sukkot, 5:30 – 7:00 p.m.
We are inviting Temple Emanuel to join with us in our Sukkah for dinner. Bring a vegan or vegetarian chili or sides or dessert to share, along with a crockpot or warming tray, if you have one, to keep your dish warm in the social hall. Put yourself into the mitzvah of the Sukkah and celebrate with your Jewish community.
Shemini Atzeret/Simhat Torah
Saturday, October 7, Shemini Atzeret
Shemini Atzeret Yom Tov Festival service, including Yizkor, 9:30 a.m.
Saturday night, October 7, 8:00 p.m., Simhat Torah
Simhat Torah evening service with Hakafot (dancing with Torahs). Please join the congregation on Simhat Torah evening for a Simhat Torah celebration.
Sunday, October 8, Simhat Torah
Simhat Torah Yom Tov Festival service, 9:30 a.m.